Brandon, Vermont (October 24, 2022) - Bar Harbor Bank & Trust has pledged $10,000 to support the Brandon Free Public Library's (BFPL) capital campaign to make significant upgrades and improvements to the library including increased accessibility for all persons to all library spaces, expanded usable space, improved energy efficiency, compliance with safety standards, and preservation of the historic integrity of the building. The Bank recently presented the first $5,000 installment of the pledge to the library and will deliver the remaining amount in 2023.
"The Brandon Free Public Library is such an important part of our community as it offers free resources to expand the mind, fosters a lifelong love of reading, and provides a place for us to gather with our friends and neighbors," said Melissa Case, VP Branch Relationship Manager at Bar Harbor Bank & Trust. "We are honored to support the library's capital campaign so that all residents can enjoy its wonder for generations to come."
The mission of the BFPL is to provide a friendly and safe atmosphere in which patrons of all ages and backgrounds may enrich their lives through the benefit and pleasure of learning and discovery. The library was established in 1827 and moved to its current location in 1902. The building has not undergone any significant updates since the 1960s. With the money raised through the capital campaign, the BFPL will make a number of improvements including renovating the building to comply with the Americans with Disabilities Act (ADA), enlarging the children's reading area, and expanding space for meetings, tutoring, and educational programming.
"The Brandon Free Public Library has been working hard for the last few years to plan and fundraise for our accessibility renovation," said Molly Kennedy, Brandon Free Public Library Director. "We appreciate each and every one of our donors, and we wouldn't be where we are without their support. The generous donation from Bar Harbor Bank & Trust moves us closer to meeting our need for this exciting project."
Learn more about the BFPL at www.brandonpubliclibrary.org.
Bar Harbor Bankshares (NYSE American: BHB) is the parent company of its wholly owned subsidiary, Bar Harbor Bank & Trust. Operating over 50 locations across Maine, New Hampshire and Vermont, Bar Harbor Bank & Trust is headquartered in Bar Harbor, Maine and has more than $3.6 billion in assets. As a leading Northern New England community bank, Bar Harbor Bank & Trust offers a full range of personal and business banking services, as well as wealth management services through its subsidiary Bar Harbor Wealth Management. For more information about Bar Harbor Bank & Trust, visit www.barharbor.bank or call 888-853-7100. Member FDIC.
###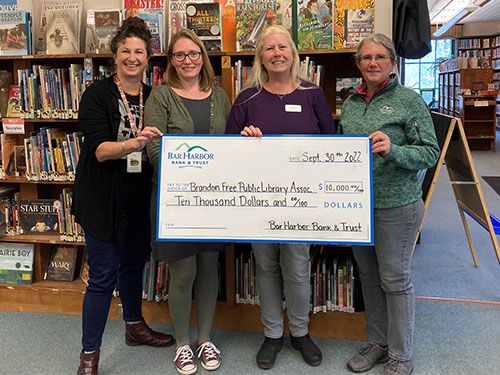 From left to right: Joni Osterhaudt, BFPL Librarian; Molly Kennedy, BFPL Director; Melissa Case, VP Branch Relationship Manager at Bar Harbor Bank & Trust; and Cristy Harding, Assistant Branch Manager at Bar Harbor Bank & Trust.