Whether you do business in a store, online, or on the road, you need the ability to accept the forms of payment your customers prefer. With Bar Harbor Bank & Trust Merchant Services, you can easily process face-to-face, phone, mail, and online payments for your customers.
Bar Harbor Bank & Trust provides industry-leading payment processing solutions that are convenient, safe, and affordable. We offer cost-saving solutions for all types of businesses: Retail, Lodging, Restaurant, Business to Business, Internet/E-Commerce, Petroleum, Mobile, Mail Order/Telephone Order, etc. We'll customize and build a program specifically to fit your business needs.
No matter what type of product or service your business offers, accepting credit and debit cards gives your customers the convenience they desire while your business benefits from faster payment processing. With merchant credit and debit card processing from Bar Harbor Bank & Trust, you'll be able to run your business more smoothly and improve your cash flow.
Contact us by calling 207-262-8305 or by email at merchantservices@barharbor.bank to learn more. You can also learn more by visiting your local branch.
Why partner with us?
Bar Harbor Bank & Trust customers enjoy:
A dedicated account representative
World-class customer support—no long hold times and no automated systems
An in-house PCI Compliance team to help your business with compliance requirements
Credit Card Processing Solutions
POS System Processing
We offer a flexible and scalable app-based Point of Sale (POS) and business management solution that can be customized to fit your unique business and grow as your business grows.
POS System Integration
We work with almost every available POS system. If you already have a POS system, you can securely process transactions within your current setup.
Terminal Processing
We offer the latest processing equipment, including EMV-compliant and NFC compatible terminals. Our program supports all major payment types including debit cards with quick and reliable funding.
E-Commerce Processing
We can help you implement a secure payment solution for your e-commerce business that meets your needs, while reducing the risks and costs of fraud and chargebacks.
Mobile Processing
Whether processing on your tablet, smartphone, or via a dedicated wireless terminal, we have user-friendly products to fit your needs while you are on the go.
Business to Business Processing
Our proprietary virtual terminal saves you money by ensuring every transaction automatically contains the correct data to qualify for the lowest rates available, including level III.
Petroleum and Gas Station Processing
We work with numerous gas stations and petroleum processing systems with high-speed authorizations and innovative reporting to keep your service station running smoothly.
Restaurant Processing
From fine dining to catering and delivery to phone orders, we can create a customized solution to fit your business needs. We work with virtually all POS systems on the market.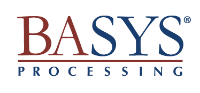 Bar Harbor Bank & Trust has partnered with BASYS Processing to make accepting credit cards and debit cards convenient, safe, and affordable. BASYS was founded in 2002 on one philosophy: to take care of their merchants, partners, and employees so they never want to leave. Together we will customize a solution to fit your needs.