Brunswick, Maine (April 19, 2023) - Bar Harbor Bank & Trust has pledged $10,000 to Tedford Housing's capital campaign to build a new emergency housing building for adults and families experiencing homelessness in northern Cumberland, Sagadahoc, and Lincoln counties in Maine. The funding will support the nonprofit organization's plan to build a new emergency housing facility that will feature a total of 64 emergency housing beds for adults and families and includes space for on-site case management to help residents find and secure permanent housing.
"Working together to help our neighbors in need is a core part of who we are at Bar Harbor Bank & Trust, and we are honored to support Tedford Housing's efforts to address homelessness in our community," said Sarah McMahon, Branch Relationship Manager at Bar Harbor Bank & Trust. "The new emergency housing facility will give individuals and families experiencing homelessness somewhere safe to stay and a place where they can start to rebuild their lives."
Tedford Housing, a nonprofit organization based in Brunswick, Maine, was founded in 1987 with a mission to empower people to move from homelessness to home. The organization is the sole provider of emergency housing in the region, and the demand for their housing and supportive services has vastly outgrown their capacity. For example, in fiscal year 2022, the organization was only able to serve 11 percent of the people requesting shelter from Tedford.
The new 17,568 square foot facility will increase the adult emergency housing capacity from 16 to 24 beds and the family emergency capacity from 6 families to 10 families. The facility will be built on a three-acre lot on Thomas Point Road that is in close proximity to healthcare, employment opportunities, transportation access, retail, and other businesses.
"We are grateful for the support of Bar Harbor Bank & Trust for our new emergency housing building and for the commitment to ensuring that everyone has access to safe shelter and to the resources necessary to secure and maintain stable housing," said Rota Knott, Executive Director of Tedford Housing. "Bar Harbor Bank & Trust's generous pledge for our new building is an investment in creating housing stability that has the power to change the lives of some of our most vulnerable residents."
Learn more about Tedford Housing at www.tedfordshelter.org.
Bar Harbor Bankshares (NYSE American: BHB) is the parent company of its wholly owned subsidiary, Bar Harbor Bank & Trust. Operating over 50 locations across Maine, New Hampshire and Vermont, Bar Harbor Bank & Trust is headquartered in Bar Harbor, Maine and has more than $3.6 billion in assets. As a leading Northern New England community bank, Bar Harbor Bank & Trust offers a full range of personal and business banking services, as well as wealth management services through its subsidiary Bar Harbor Wealth Management. For more information about Bar Harbor Bank & Trust, visit www.barharbor.bank or call 888-853-7100. Member FDIC.
###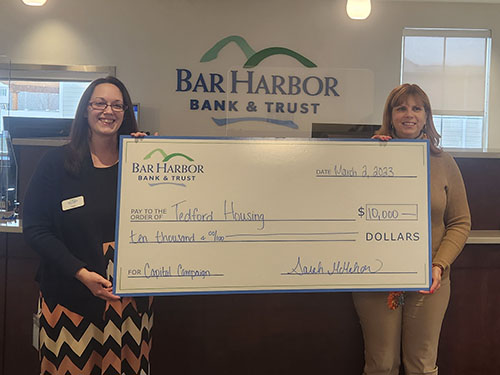 From left to right: Sarah McMahon, Branch Relationship Manager at Bar Harbor Bank & Trust, and Rota Knott, Executive Director of Tedford Housing