Bar Harbor, Maine (November 30, 2022) - Bar Harbor Wealth Management is pleased to announce that, through the Hattie A. & Fred C. Lynam Trust, $140,000 has been awarded to 44 organizations serving the people of Mount Desert Island. The Lynam Trust, managed by Bar Harbor Wealth Management, was established in 1942 and awards grants annually to charitable, religious, and educational organizations located on MDI. Grant awards per organization range between $500 and $5,000.
Organizations receiving grants in 2022 are:
A Climate to Thrive
Acadia Handbell Choir
Acadia Homes for Students
Acadia Senior College
Acadian Youth Sports
ArtWaves
Bar Harbor Food Pantry
Bar Harbor Historical Society, Inc.
Barn Arts Collective
Camp Beech Cliff
Common Good Soup Kitchen Community
Conners Emerson PTSA
History Trust
Hulls Cove Neighborhood Assn.
Island Connections
Island Housing Trust
Jesup Memorial Library
Keystone Iron Works
Kids' Corner
Local Solutions
Maine Granite Industry Historical Society
MDI Backpack Program
MDI Community Campfire Coalition
MDI Community Sailing Center
MDI Hospital
MDI Racial Equity Working Group
MDI YMCA
MDI YWCA
Mount Desert Nursery School & Child Care Center
Mount Desert Nursing Association
Mount Desert Summer Chorale
Neighborhood House
Northeast Harbor Library
Open Table MDI
Seal Cove Auto Museum
Somesville Library Association
Southwest Harbor Historical Society
Southwest Harbor Public Library
Southwest Harbor/Tremont Nursing Service, Inc.
Summer Festival of the Arts
Tremont Historical Society
Wendell Gilley Museum
Whistle Pig Animal Welfare Service
Willowind Therapeutic Riding Center
The annual grant application deadline for next year's awards will be September 15, 2023. Applications are reviewed by the Grants Committee each November, and grants are awarded and distributed by December 31 of the same calendar year. Applicants must have their primary administrative office located on Mount Desert Island and serve the residents of MDI. Eligible organizations are encouraged to apply every year, whether or not a grant was awarded to them in a prior year. For additional information, please visit www.lynamtrust.com.
In addition to the grant program, the Lynam Trust has awarded scholarships to graduating seniors of Mount Desert Island High School since 1942. These renewable awards are restricted to graduates of MDI High School who are residents of Mount Desert Island. Recipients must reapply each year. In 2022, $1,250 scholarships were awarded to 98 MDI High School graduates.
Bar Harbor Bankshares (NYSE American: BHB) is the parent company of its wholly owned subsidiary, Bar Harbor Bank & Trust. Operating over 50 locations across Maine, New Hampshire and Vermont, Bar Harbor Bank & Trust is headquartered in Bar Harbor, Maine and has more than $3.6 billion in assets. As a leading Northern New England community bank, Bar Harbor Bank & Trust offers a full range of personal and business banking services, as well as wealth management services through its subsidiary Bar Harbor Wealth Management. For more information about Bar Harbor Bank & Trust, visit www.barharbor.bank or call 888-853-7100. Member FDIC.
###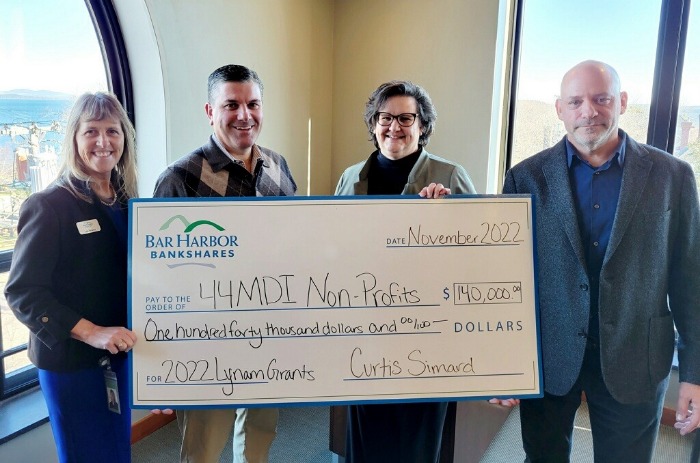 From left to right: Lisa Parsons, SVP Regional Market Manager at Bar Harbor Bank & Trust; Curtis Simard, President & CEO of Bar Harbor Bank & Trust; Sharon Linscott, Executive Director of Island Connections; and Sean Charette, Director of Wendell Gilley Museum.