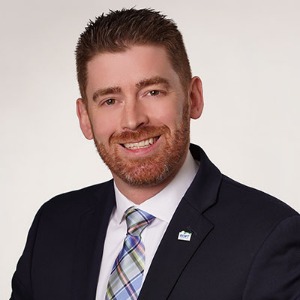 Nashua, New Hampshire (February 7, 2023) – Michael Woodbury has been promoted to Assistant Vice President (AVP), Treasury Sales Officer at Bar Harbor Bank & Trust. In his new role, he supports Southern New Hampshire businesses using the Bank's treasury management and payable processing services and helps them find solutions to further improve their efficiency, maximize cash flow, and decrease risk.
Michael has more than 14 years of experience in retail banking, bank operations, consumer and small business lending, and building business efficiencies through digital banking. He joined Bar Harbor Bank & Trust in early 2020 as AVP, Branch Relationship Manager for the Bank's location in Peterborough, New Hampshire. In January 2021, Michael became the AVP, Branch Relationship Manager for the Bank's new location in Bedford, New Hampshire, and led the team there successfully for two years. Prior to joining the Bank, he worked for TD Bank in a variety of roles of increasing leadership responsibility in New Hampshire, Massachusetts, and New York.
Michael holds a Bachelor of Science degree in Management & Policy from the University of New Hampshire.
Michael is active with the Milford Community Athletic Association. He recently served on the board of directors for Monadnock Music.
Michael, his wife Christina, and their three children live in Milford, New Hampshire.
Bar Harbor Bankshares (NYSE American: BHB) is the parent company of its wholly owned subsidiary, Bar Harbor Bank & Trust. Operating over 50 locations across Maine, New Hampshire and Vermont, Bar Harbor Bank & Trust is headquartered in Bar Harbor, Maine and has more than $3.6 billion in assets. As a leading Northern New England community bank, Bar Harbor Bank & Trust offers a full range of personal and business banking services, as well as wealth management services through its subsidiary Bar Harbor Wealth Management. For more information about Bar Harbor Bank & Trust, visit www.barharbor.bank or call 888-853-7100. Member FDIC.
###